Hey there! It's finally the weekend YES!!!
Join the Weekend Meet & Greet Blog Hop with Laurie @
Created by Laurie
and her friends. This weeks question is...........
What one object in your home are you most embarrassed about owning?
I own a candelabra that weighs about 15 lbs. and is very gaudy. I don't know where I got it but it makes a good door stop or if need be a great weapon. Weird I know. Link up and share you embarrassing treasure item and meet some new folks. Have a great weekend.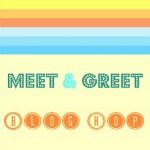 I was able to catch a bit of Bead Fest after work today. I met some nice people and did a little shopping (stay tuned for the goodies). I found some art beads and of course lots of findings. So many pretty things.

There are some talented folks giving demonstrations and offering advise. I am anxious to see what tomorrow brings.